Da Nang is famous as the most livable city in Vietnam, located in the Central region. Having a tropical climate, Da Nang is hot and humid all year round. This is considered a unique destination for foreign tourists. Traveling here, you definitely can not miss the opportunity to go along the coast, soaking in the cool blue seawater. But, that alone is not enough! In this city, the experience of visiting the monuments, setting foot in the dining and entertainment areas will be your memorable memories.
Discover nine famous tourist attractions in Da Nang
Going to Hai Van Pass
Hai Van Pass is at the top of the most beautiful coastal passes in Vietnam. Hai Van Pass offers viewers a breathtaking view thanks to year-round white clouds at the top of the peak and the immense sea at the foot of the pass.
The image of dangerous but beautiful roads with majestic mountains, with layers of clouds hovering over the top of the hill, makes visitors unconsciously remember the rhythm of the song "Tau anh qua nui" ( a Vietnamese resistance song). This beauty has become unforgettable musical melodies.
Connecting Da Nang and Hue, the pass has a majestic and poetic beauty that many backpackers are passionate about exploring this destination.
Visit Sculpture Museum – Cham Dam Nang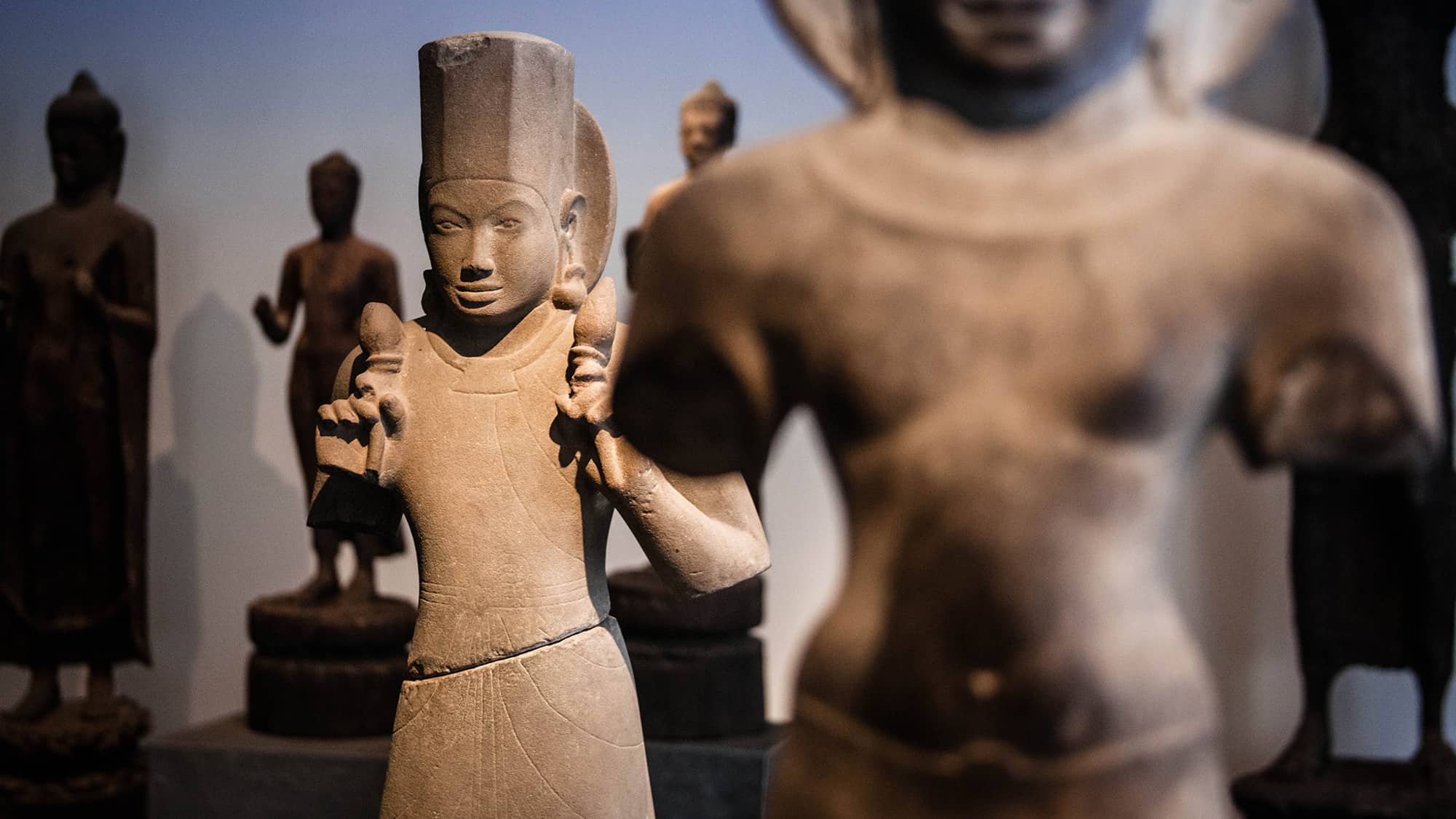 If you have a visit to Da Nang, you should not miss the opportunity to visit the Cham sculpture museum. 2000 have been collected to make this place the most fantastic feature for those curious about Da Nang and world history.
This majestic museum, saving the past golden history, is located on the banks of the Han River. This is a beautiful place to visit and leaves a lot of meaning for each person. If anyone comes to Da Nang, this place should not be missed.
Address: No. 02, September 2, Hai Chau District, City. Danang
Opening hours: Open at 7 am and close at 5 pm daily.
Ticket price: 60,000 VND/person/1 visit
Visit the My Son Sanctuary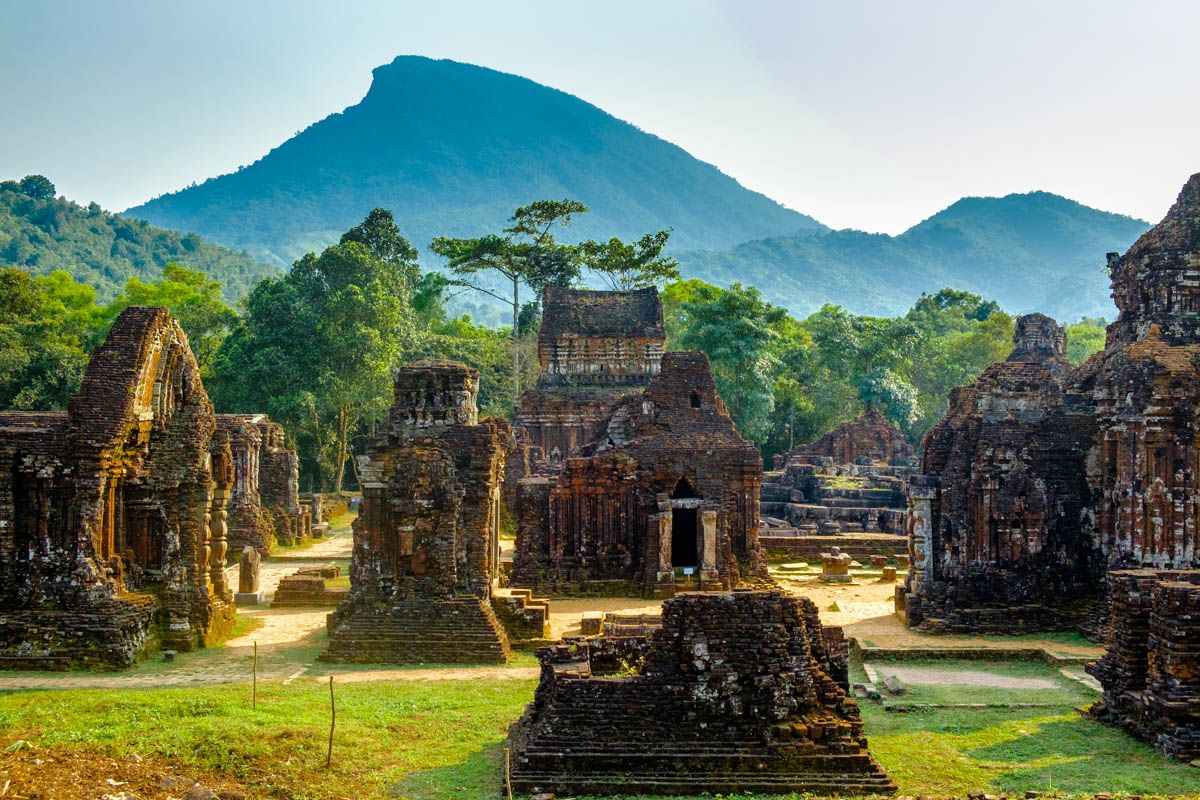 My Son is located 69 km southwest of Danang. This is a citadel in the Cham dynasty, sometime between the 4th and 12th centuries. My Son Sanctuary is hidden deep in the valley with the poetic beauty of the mountains.
My Son Sanctuary is a prominent religious relic complex with more than 70 architectural works. The sophisticatedly designed and built towers, beautiful.
Address: Duy Phu, Duy Xuyen, Quang Nam
Opening hours: 6:30 – 17:30 daily.
Ticket price: 100,000 VND.
Explore Ba Na Hills
You can have an expansive view of the sea, Danang city, rice fields spreading to the horizon, etc.
You can choose to walk or take the cable car up the hill to see the whole scene of this largest mountaintop amusement park in Vietnam.
Because it is an area above sea level, the temperature is quite cold, so you should prepare a warm coat, umbrella or waterproof raincoat for a better experience.
This is an unforgettable experience for you to observe the noteworthy breathtaking sights.
Watch the Dragon Bridge spit fire at the weekend.
As a unique bridge in Vietnam, Dragon Bridge has become a symbol of Da Nang city that everyone wants to visit once. Dragon Bridge is the city's lifeblood and is modeled on the outstanding architecture of the dragon of the Ly Dynasty.
You can enjoy the poetic scenery of the Han River on the unique Dragon Bridge in the city center and watch the dragon spit fire at 9:30 am on weekends.
Walking on Golden Bridge
Da Nang Golden Bridge is likened to a beautiful silk cloth spanning Chua Mountain. This place attracts many visitors to Da Nang, thanks to the bridge's unique design.
To have a memorable trip on this Golden Bridge, you should book the trip in the summer, instead of the winter, it will be foggy and difficult to see the scenery.
Ticket price: Free to visit.
In fact, you do not need to buy a ticket to visit the Golden Bridge, but to get to the Golden Bridge in Da Nang, you will need to buy a ticket to the Ba Na Hills tourist area. Reference ticket price:
Adults and children over 1m4 tall: 750,000 VND/person from outside the province; 450,000 VND/ person in Da Nang
Children from 1m to 1m4 tall: 600,000 VND/person from outside the region; 350,000 VND/ person in Da Nang
Children under 1m tall: free
Visit Linh Ung Son Tra Pagoda
You are a silent and peaceful life person, this pure spiritual place you should not miss. Up to now, Linh Ung Pagoda has 3 locations with incredible scenery, free to explore.
The way to Linh Ung Pagoda Bai But Son Tra: This temple has the most beautiful natural scenery. The temple leans back on the peninsula, facing the East Sea, surrounded by Cu Lao Cham Island. In the distance is the wonderful scenery of Hai Van Pass.
Linh Ung Ngu Hanh Son Pagoda – The oldest temple in the "Tam Linh Ung Tu": Linh Ung Ngu Hanh Son Pagoda is located on Thuy Son mountain – The most beautiful and most significant peak in the Marble Mountain. This is an ancient temple with nostalgic and sacred beauty.
Ba Na Linh Ung Pagoda – Chua Mountain: This tourist attraction is located in the Ba Na Hills tourist complex. Visitors can witness firsthand the poetic beauty of the tourist spot 1500m above sea level.
"Lose yourself" at the My Khe beach
Forbes Magazine voted my Khe Beach as the most attractive beach on the planet. The coastline of My Khe beach is more than 900 meters. This beach has long golden sand, a deep blue sea next to the vast fresh coconut groves. Tourists have a chance to relax, enjoy the peace and nature, and play aquatic sport.
With a moderate sea level depth, visitors will comfortably swim in the cool blue water and admire the majestic Marble Mountains, Cu Lao Cham island far away from Hoi An, etc. You can not resist the beauty of the sunrise or sunset on the sea.
Conquering "Roof of Da Nang" – Table Co Peak
9km west of the city center, Ban Co Peak is known to many tourists thanks to its unique topography and fascinating and unique legends surrounding it.
Ban Co Peak is famous for its beauty that evokes a bit of nostalgia amid modern life. From the top of Ban Co, the whole scene of Da Nang seems to be gathered, creating the feeling of stepping into a fairyland.
When the last lights of the day gradually fall, the city appears with a fanciful, fragile look. From here, you can zoom out into the distance, watching the Dragon bridge stretch out vigorously or the strait curves gently around.
Experience 7 "hot" restaurants of Da Nang Vietnam
Visit Mi Quang 1A
With a combination of noodles, shrimp, pork, rice paper, roasted peanuts, and a broth made from lovely and fragrant bones, My Quang 1A is visited by many people.
Address: 1A Hai Phong, Hai Chau, Da Nang
Price: 15,000 – 39,000 VND/bowl
Opening hours: 7:00 a.m. – 10:00 p.m
Drink coffee at Cong Caphe
Drinking coffee by the riverside with poetic views across the water at the coffee shops in the style of the subsidy period is extremely interesting.
Eat bun mam nem Ba Bong (a noodle soup cooked with fermented fish)
Visit Ba Bong to enjoy typical and rustic dishes and win the hearts of many Diners. At Ba Bong Da Nang vermicelli restaurant, from simple ingredients but with the regular fish sauce of the locals, this dish has captured the hearts of many diners.
Go to 109 Nguyen Chi Thanh to eat Grilled chopped fish noodles
Coming to Da Nang, you must visit 109 Nguyen Chi Thanh to eat Grilled chopped fish noodles. The dish has a slightly sweet taste. The broth is not too fishy with many attractive side dishes.
Opening hours: 6:30am – 10:00pm
Selling price: 25,000 – 30,000 VND/bowl
Go to the waterfront restaurants
Go to the restaurants overlooking the river to watch the sunset drop gently and romantically, enjoy delicious food and sea-flavored drinking water. This is a great experience that you should try.
Discover the dap cake of Ba Qua Street Le Duan
Discovering the crispy baked rice cake of Ba Tu brand with the wet cake filled with soft and fragrant shrimp, breaking small pieces, and dipping it with fish sauce will be extremely extraordinary.
Address: 354 Le Duan, Hai Chau, Da Nang
Opening hours: 14h00 – 21h00
Selling price: 3,000 – 5,000 VND/piece
Try Cao Lau Hoai Pho food
At first glance, you will think Cao Lau is similar to Quang Noodles, but the noodles here are Japanese udon noodles with shrimp, meat, raw vegetables, and very little broth.
You can taste the high floor dishes with Japanese udon noodles, shrimp, meat, raw vegetables, and some broth at Cao Lau Hoai Pho for only 25,000 VND/bowl.
Go to 9 shopping and entertainment places in Da Nang
Buy things at the Korean market
119 Tran Phu, Hai Chau, Da Nang is the next destination to buy all the items you want at the Korean market. You can purchase specialties as gifts for relatives and friends.
Da Nang Korean market has two floors. Specifically, the first-floor area includes dry goods, snacks, fresh seafood, and handicrafts. The second-floor space includes fabrics, clothes, shoes, and bags. This is a market space with a variety of trading items, dining space, giving visitors a lot of experiences.
Buy fish early in the morning at large and small fishing ports
As a coastal city, Da Nang has many busy fishing ports. It would help if you got here to experience buying fish as soon as the ship docks when the sun rises.
At the same time, you can immerse yourself in the bustling atmosphere of the people here.
Shopping at Le Duan night market
Le Duan night market at 144 Thach Thang, Hai Chau, Da Nang sells many items such as clothing, shoes, accessories to food, and drinks that you must visit experience.
Le Duan night market meets from 19:00 to 23:00. This is entirely a spontaneous market. Le Duan Market is very idyllic and rustic, nestled between luxury fashion stores.
Paragliding Son Tra
Paragliding in Son Tra is for those who love new things, the feeling of discovery and experience.
Looking down from above the beautiful city of Da Nang, you will get a different feeling of excitement, separate from the sense of looking through the plane's small window.
In the distance is Linh Ung Pagoda with Quan Am Buddha, then the My Khe beach is green, one color spot on the shore are colorful fishing boats, the majestic Hai Van passes below, etc. The feeling will be great!
Go shopping at Con Market
Con Market is open from 7:00 am to 7:30 pm daily. You can experience the feeling of going to the market in each area selling different types of goods at this busiest shopping district in Da Nang.
The Con market is quite evident when divided into three main areas: indoor and outdoor cuisine specializing in dry specialties.
Basic information:
– Address: Level 3, Hung Vuong Commercial Center, Hai Chau 1 Ward, Hai Chau District, Da Nang
– Opening time: 06h00 – 19h00
Camping overnight at Ban Co Peak
With your friends camping overnight to see the stunning night scene with cool air, relax on the top of Table Co.
When night falls, the whole city is lit up with lights, then the top of Ban Co is quieter. From here, you can see the poetic and peaceful Han River. Brilliant bridges across the river. The bright streets connected like a glowing grid. That beauty has made many people admire it.
See the corals of Cu Lao Cham
Experience the immersion in the sea to see clearly and touch the coral reefs. Cu Lao Cham is the first island of Vietnam to discover a system of corals of all shapes and types. Among them are extremely rare coral species that need to be preserved.
It isn't easy to describe the emotions when seeing and touching the beautiful and colorful coral reefs. Thanks to the deep enough coastline and the blue water surface, green moss can be seen, creating conditions for visitors to fully explore the nature of the seabed.
Party at Sky 36
At an altitude of 166 m above the ground in the city known as "the most livable in Vietnam," Sky 36 is the place that owns a "genuine" panoramic view of Da Nang.
Located on the top floor – 36th floor of Novotel Danang Hotel, Sky36 has a direct view of the poetic Han River and a miniature view of the city in sight. Sitting here, you will have the opportunity to experience the feeling of entirely watching the romantic sunset scene right in the city center.
It is designed with three floors, with a total area of ​​nearly 2,000 m2 and a capacity of up to 600 guests, that is a harmonious combination of the outdoor bar, sofa bed, and VIP lounge area inside.
Have fun at Asia Park
Asia Park combines unique, creative, and unique entertainment methods in the world, imbued with unique Asian culture. Asia Park is divided into three amusement zones: A modern outdoor amusement park, a cultural park with iconic miniature artworks of 10 Asian countries, a Ferris wheel – a place to mingle a blend of modern and traditional.
Try the big sun wheel flying 115m high, the unique clock tower, and countless exciting activities at Asia Park, address 01 Phan Dang Luu, Hai Chau, Da Nang.
25 things in this article will make your trip to Da Nang more perfect. These are great things for any visitor. So, don't let slip that you will enjoy your trip to the most livable city in Vietnam.
An Article of http://www.Local-Insider by Khang Trần Lâm
Are you planning a trip to Vietnam ? We invite you to contact us at MustSeeInVietnam@Gmail.com and to visit the No 1 Vietnam Travellers Podcast website https://www.whataboutvietnam.com and http://www.Local-Insider.comThank you for following us, for your Likes, your comments and for sharing with your friends. Visit us on Facebook https://www.facebook.com/mustseeinvietnam/