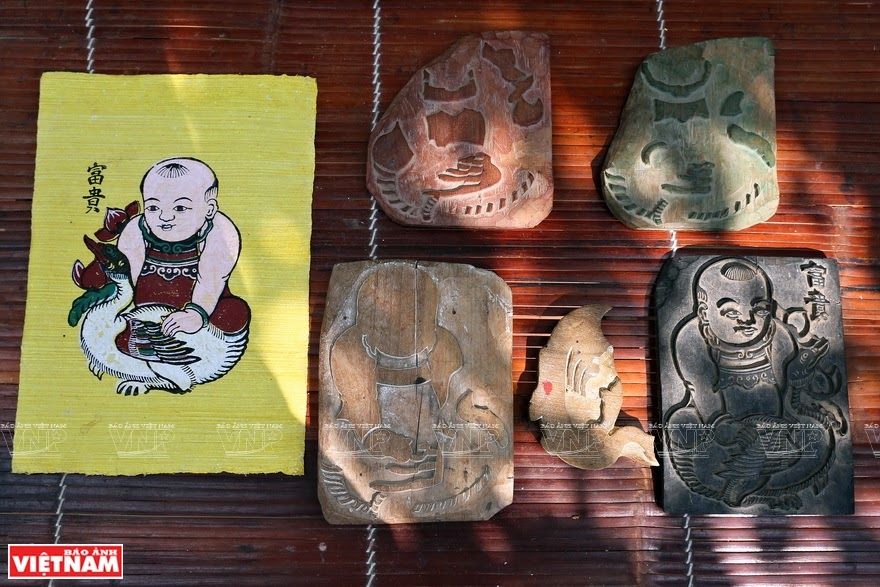 Dong Ho folk woodcut painting.Photo by Vietnam Pictorial
Picking your favorite traditional Vietnamese souvenirs is the way of fulfilling your travel experiences. But more than that, gifting those is also a way of spreading our Vietnamese greetings to your loved ones.
Coffee & Phin
Vietnamese coffee. Photo by Courtesy Of Coffeeholic House
Vietnam is the world's second-biggest coffee exporting country, especially robusta beans. Thus buying coffee in Vietnam is a wise choice and also an act of showing your appreciation to Vietnamese farmers, and our coffee beans.
Locals have a distinguishable way of brewing coffee using Phin, then enjoy the dense coffee liquid with condensed milk. Once you've tasted the thick texture and rich flavor of Vietnamese coffee, you couldn't shake it out of your mind. So better buy some coffee and a Phin to enjoy it at home, every time you miss the taste of Vietnam.
You can buy quality Vietnamese coffee beans from brands that have good sourcing from central highland Vietnam:

La Viet Coffee
Address:
200 Nguyen Cong Tru, Da Lat, Lam dong
191 Hai Ba Trung, Ward 6, District 3, Ho Chi Minh
Son Pacamara Roastery
Address: 20C Hoang Van Thu, Ward 4, Dalat, Vietnam
K'Ho Coffee
Address: Lat, Lac Duong District, Lam Dong, Vietnam
Delicious souvenirs
There are so many nurturing and delicious foods made from local goodness. However, if you want to buy things that have a long shelf life, are packable and convenient, consider those options:
Cốm- green rice flake/ green rice flake cake
Cốm in Vong Village. Photo by Dienmayxanh.com
Packed inside all the scents of the petty field, the fresh milk, and sweet autumn dew, Cốm or green rice flake is the seasonal special of Ha Noi. If you want to buy the tastiest and freshest one, it's recommended to visit Vong Village (located in the suburb of Ha Noi) during autumn, around October to November.
Taking your morning stroll along the streets of Hanoi Old Quarter, you might come across food vendors with their bamboo shoulder poles and amazingly tasty Cốm from Vong Village.
You can also buy Cốm inside Ha Noi center, at one of the places below:
Banh Com Nguyen Ninh
Address: 11 Hang Than, Ba Dinh, Hanoi
Com Vong Ha Noi
Address: 36/ 63 Xuan Thuy, Cau Giay, Ha Noi
O Mai – salted dried fruit
Apricot O Mai. Photo by inhat.vn
Visiting Hanoi, you should not skip these tasty snacks made from dried fruits such as apricot, plum, dracontomelon marinated with salt, chili, spices, and sugars. You can buy this in almost every grocery and supermarket within the city.
Or you can choose to buy from one of the shops bellowed:
O Mai Hong Lam
Address:
11 Hang Duong, Hoan Kiem, Hanoi
127 Doi Can, Ba Dinh, Hanoi
O Mai Tien Thinh
Address: 21 Hang Duong, Hoan Kiem, Hanoi
Coconut candy
Coconut candies. Photo by Dienmayxanh.com
Coconut candies are among the most popular sweets in Vietnam, which is why you can get those in most department stores, groceries, or supermarkets.
This sweet's origin is Ben Tre, the most extensive coconut growing region in Vietnam. You can travel the land and buy more coconut products such as Coconut Caramel, Vietnamese desiccated coconut flakes, Vietnamese banana rice paper, Mỹ Lồng coconut rice paper.
Tribal Textiles/ Brocade
There are diverse ethnic communities in North and West Vietnam that have a long history of handcrafted textiles. Each tribe has unique materials, patterns, and techniques for making their traditional ones. Listed as an exquisite luxury good, it's a valuable gift even to Vietnamese people. It's best to travel to North Vietnam (in Ha Giang or Sapa) or West Vietnam (An Giang) to buy brocade at their origins.
H'Mong's traditional textiles. Photo by Lee Vue/Unsplash
Van Giao brocade village
Address: Tinh Bien, An Giang Province, Vietnam
Ta Phin Village
Address: Sapa, Lao Cai, Vietnam
Can Cau Market:
Address: ĐT153, Can Cau, Si Ma Cai, Lao Cai, Vietnam
Silk
Hanoi and Hoi An can offer you the finest silk in the entire country. Hoi An was once a bustling business town on the legendary Silkroad, while in Hanoi's Old Quarter, Hang Gai street has a long history of making high-quality silk products.
Premium silk. Photo by Metiseko.com
Hang Gai Street (or Silk Street)
Address: Hang Gai, Hoan Kiem, Hanoi
Metiseko Hoi An
Address: 142 Tran Phu, Hoi An, Vietnam
Website: https://metiseko.com/
Hoi An Silk Village
Address: 28 Nguyen Tat Thanh, Hoi An, Vietnam
Website: http://www.hoiansilkvillage.com/
Ceramic & Pottery Products
Bat Trang Pottery Village. Photo by Linh Tam/nhipsonghanoi.com.vn
Spread across the country are traditional villages making unique pottery and ceramic products. The most ancient one is Bat Trang village, located only 20km away from Hanoi center, with more than 1000 years of making pottery. In the north region, Phu Lang Village is also a place for you to come and buy red-clay pottery, while most Bat Trang products are made from white clay.

Central Vietnam has Thanh Ha village located right in Hoi An town. This place once exported its product to Japan, China, and Spain via the Hoi An Trading Port during the 17th- 18th century.
Bau Truc Pottery Village. Photo by Vietnamdiscovery
Heading south from Hoi An, Bau Truc is the next worth visiting pottery village due to Cham's culture displayed in its products. Villagers need no turntable to shape the pottery but only their skillful hand. The end product has its material's natural color of red gold, rosy red, or black-gray with distinct brown patterns because of the six-hour burn in furnaces.
Bat Trang pottery village
Address: Bat Trang, Gia Lam, Hanoi, Vietnam
Phu Lang pottery village
Address: Doan Ket, Que Vo District, Bac Ninh, Vietnam
Thanh Ha Pottery Village
Address: Pham Phan, Thanh Ha, Hoi An, Vietnam
Bàu Trúc Pottery Village
Address: Street 7, Ninh Phuoc, Ninh Thuan, Vietnam
Paintings and Postcards on Dó Paper
The making of woodcut prints for Dong Ho paintings. Photo by Vietnam Pictorial
The beauty of this gift lies in exotic paper material from the local Dó tree of North Vietnam. The making process is complex and can take up to three months to finish.
Combining with the sophisticated Dong Ho folk woodcut painting technique, the gift is an absolute artwork of the finest creative traditions in Vietnam.
Tranh Dong Ho – Nguyen Huu Qua Artist
Address: Dong Khe, Song Ho, Thuan Thanh, Bac Ninh, Vietnam
Conical Hat
Anywhere in this country, you can buy the traditional conical hat. However, they will look slightly different due to their place of origin. Primarily they are made from palm leaves, the bark of the Moc tree, and bamboo. Conical hat's function is to protect farmers from any weather conditions. The most widely known origin places of the conical hats are Chuong Village, located in Hanoi, and Tay Ho Village in Hue, which is known for its famous poem conical hat (aka Non Bai Tho).
Handcrafting conical hats. Photo by Hoang Dinh/Unsplash
Chuong Village
Address: Lang Chuong street, Phuong Trung, Thanh Oai, Hanoi
Tay Ho Village
Address: Tay Ho village, Phu Ho, Phu Vang, Hue
Ao Dai
Hue's woman in silk Ao Dai. Photo by Tuan NA
Being a national dress of Vietnam, Ao Dai carries a long and rich cultural value, thus making it a perfect gift to bring home. Although it's more common for women to wear Ao Dai, both men and women can wear them.
The two most famous places with a long tradition of wearing and making Ao Dai are Hanoi and Hue. Hanoi has been the capital of Vietnam, while Hue used to be the citadel of many thriving dynasties.

You can pick the fabric for Ao Dai in almost every central market of big cities like Hanoi, Hue, Danang, HCMC or go to famous tailor shops within your traveling destinations. Here are the best Ao dai's tailors in Hanoi and Ho Chi Minh City:
In Ha Noi:
Ao Dai Minh Duc
Address: 41 Dang Tien Dong, Trung Liet, Dong Da, Hanoi, Vietnam
Van Phuc Silk Trade Village
Address: Van Phuc Village, Ha Dong, Hanoi
In Ho Chi Minh City:
Ao Dai Lien Huong
Address: 111 Pasteur, Ward 8, District 3
Ao Dai Minh Khoa
Address: 39 Dong Khoi Street, District 1
Vietnamese Embroidery
The creation of delicate handmade embroidery requires skillful hands, highly focused, and a lot of time. Thus depending on the region of origin, the theme of art varies from traditional patterns, cultural symbols, to nature-inspired designs. You can buy embroidery clothes (or Ao Dai), embroidery paintings, or accessories such as fabric wallets, purses, handkerchiefs, or scarves, etc.
Tanmy Design
Address: 61 Hàng Gai, Hàng Trống, Hoàn Kiếm, Hà Nội
Calligraphy (Thu phap)
Calligraphy in Tet holiday. Photo by suckhoedoisong.vn
The practice of Vietnamese calligraphy is usually before and during Tet. The artists will write down the positive words that people wish to bring fortune in the new year. Calligraphy can also be a gift to family or friends on special occasions such as housewarmings or inaugurations.

Here are the best places to order your calligraphy:
Thu phap Thanh Phong
29 Le Van Hien, Dong Ngac, Tu Liem, Hanoi, Vietnam
Thu phap Van Minh
Address: 120/29/5B6 Thich Quang Duc, Ward 4, Phu Nhuan, Ho Chi Minh City
Thu phap Dang Tam
Address: 18a1 on street number 35, Ward 7, Thu Duc, Ho Chi Minh City, Vietnam

Collecting souvenirs that bear cultural values is a pure joy of bringing some of the most delicate pieces of the land home to your family or friends!
Let's plan your trip to Vietnam as soon as possible and save your luggage space for the lovely Vietnamese traditional souvenirs.
Are you planning a trip to Vietnam ? We invite you to contact us at MustSeeInVietnam@Gmail.com and to visit the No 1 Vietnam Travellers Podcast website https://www.whataboutvietnam.com. https://www.Local-Insider.com and https://www.VietnamTravel.com
Thank you for following us, for your Likes, your comments and for sharing with your friends. Visit us on Facebook https://www.facebook.com/mustseeinvietnam/