Coming to Ho Chi Minh City, experiencing nightlife in this vibrant and dynamic city should be on your bucket list. Here are the best ten rooftop bars in Saigon that offer various styles of atmosphere that suit you.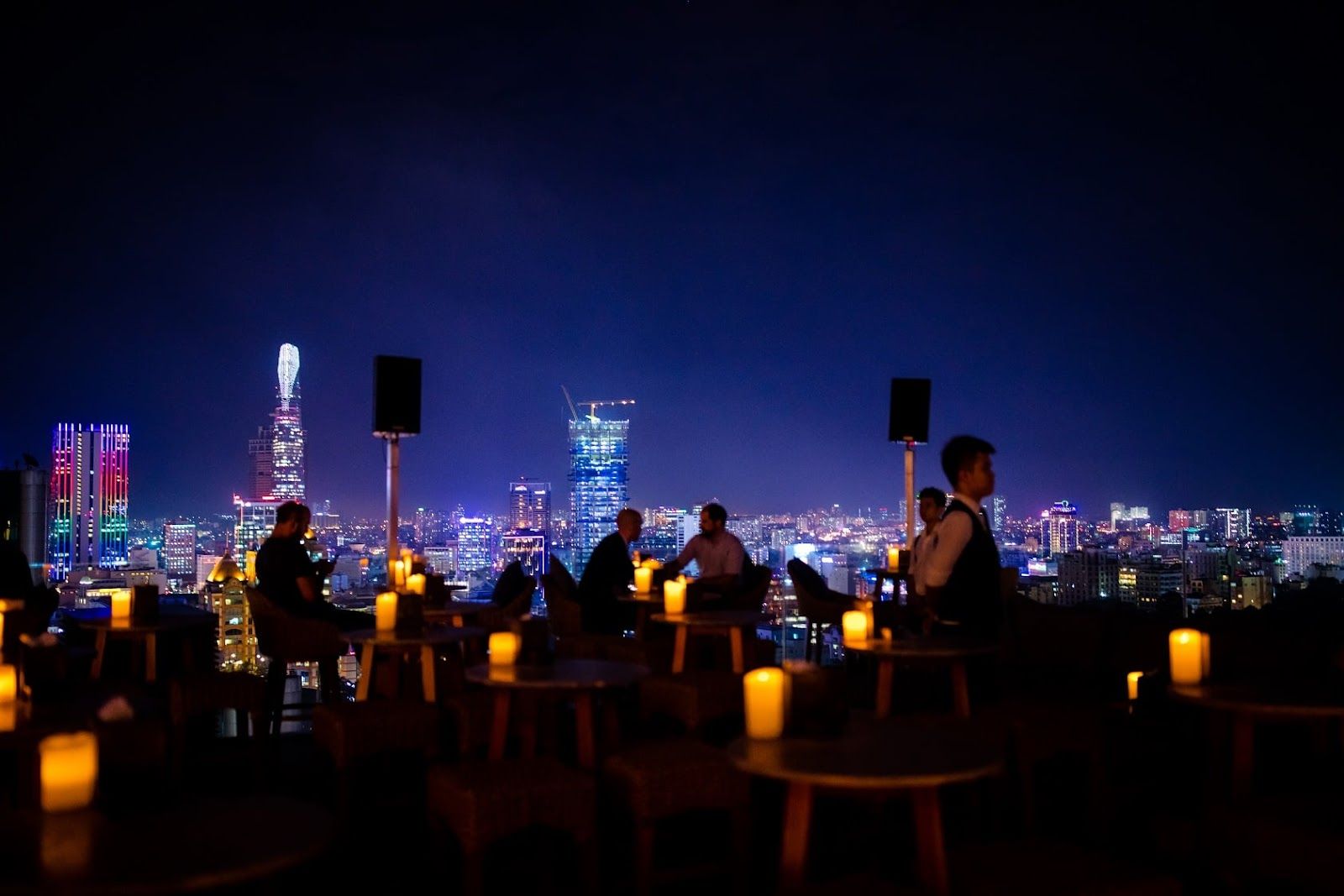 Coming to Ho Chi Minh City, experiencing nightlife in this vibrant and dynamic city should be on your bucket list. Here are the best ten rooftop bars in Saigon that offer various styles of atmosphere that suit you.
Social Club Saigon
Drink bar in Social club Saigon. Photo by Social club Saigon
Often listed as the best rooftop bar in Ho Chi Minh City, Social Club Saigon owns its unique artist, luxurious European class vibe that is rarely found anywhere else.
Situated on two top floors of the elegant Hôtel des Arts, Social Club Saigon has restaurant space on the 23rd level and a rooftop bar on the 24th. The classy European influence is the theme of service, interior space, cuisine, and drinks here. The indulgence is shown in wooden furniture, decorations, and the highest rooftop infinity pool which perfectly reflects the sunset.
For a more impressive experience, take a walk to Centec Tower via the one-of-a-kind glass suspension bridge in Ho Chi Minh City. A wide selection of high-end spirits (especially gin), exceptional wines, and an artisan cocktail menu also complete your experience here!
---
Glow Rooftop Lounge
Glow Rooftop Lounge from above. Photo by Glow Rooftop Lounge
The name of this bar signals the stunning glow from both sunset and the city's night light.
Located on the top floor of the President Place building right in the city center, this place offers a vibrant, young, and fashionable vibe with a great view and a wide variety of crafted cocktails.
Bar's dishes are the fusion of both Eastern and Western cuisine.
The main space of the rooftop is for a cool bar with many comfortable lounge seats surrounding it. However, you can find a more intimate space on the other side of the terrace with dimmer light and more private space.
Tip: The tip to get a good spot for greeting sunset is to arrive early so that you can relax and watch the twilight while treating yourself to a fresh cocktail.
---
Shri Restaurant & Lounge
Shri's panoramic view. Photo by Shri Restaurant & Lounge
Shri's indoor dining space. Photo by Shri Restaurant & Lounge
As the name of this place is "restaurant & lounge", Shri offers a great menu under modern European influence. Various grill dishes are made from carefully selected high-quality ingredients locally and internationally. Besides the food, its open space is designed for not-a formal dining atmosphere, yet elegant, modern, and professional in terms of services.
Situated on the 23rd floor, this lounge is widely known for its panoramic view of the city, the open garden terrace, and great bar and lounge space with well-mixed cocktails, wines, and spirits.
---
AIR Saigon
Vibrant night in AIR Saigon. Photo by AIR Saigon
What do you expect from a sky pool bar in Ho Chi Minh city?
Yes! The hot, trendy, vibrant, and party spirit of this place is undeniable.
Located on the 22nd floor, right in the city center, AIR Saigon often hosts live music with chic DJs and influencers. This bar is a multi-level venue, so you can choose to enjoy the night under the sky by the pool, get into the indoor lounge or enter the VIP area for a more intimate and private setting.
Late-night will come with festive vibes, a stylish crowd, and up-to-the-sky live electronic music. Order your customized drinks or snack on some Vietnamese bar bites and have fun!
---
Chill SkyBar Saigon
Iconic oval bar in Chill Skybar Saigon. Photo by Chill Skybar Saigon
An impressive sky bar located on the 26th of Ab tower, Chill Skybar Saigon was the first sky bar in Vietnam and has maintained and kept up its vibe and reputation for years. Being named as the world luxurious restaurant in 2018 and getting an award by the world's finest club, the quality service and vibrancy of this place won't fail you.
The 360-degree view of the city is one signature feature among several impressive ones, which include the fantastic sunset view, the lavish terrace, and the iconic glowing oval bar in the center. Mentioning the food, sliders, quesadillas, tapas, and sharing platters are dishes served here, accompanied by the large option of cocktails, beers, and wines.
Tip: If you want a calm, romantic vibe, come early on sunset time. For the club vibe, vibrant party with DJs, and fanatic dancing, late-night is your time!
---
Broma: Not a Bar
The international vibe in Broma. Photo by Broma: Not a Bar
The funky vibe in Broma. Photo by Broma: Not a Bar
If you love a casual, laidback, and 'hippy' vibe rooftop, then check out Broma! This place is unique among other rooftop bars due to its live music events by talented international and local artists, its heavenly craft beer selections, and in-house cocktails.
With a double-decker rooftop separated from the main area and the in-floor three-meter fluorescent fish tanks, the space is perfectly set up for starting a conversation. The decoration is routinely updated to keep the atmosphere always fun and fresh.
For those who want customized cocktails, Broma offers in-house mixologists who will bring some of your vibes into the cocktail. For beer lovers, this place will make you happy with diverse selections of local and imported craft beers.
Live music is played throughout the week. On weekends, DJs will take the stage with euphonic playlists that promised not to interrupt conversation but keep your feet tapping instead. The music genres in Broma are Jazz, House, Deep House, Nu, Funk, Disco, Hip Hop, Acoustic and more.
Tip: If you are a Vina House fan, this place is NOT for you!
---
Saigon Saigon Rooftop Bar
Cozy night in Saigon Saigon rooftop bar. Photo by Saigon Saigon rooftop bar
With a classic vibe of the old Indochine city, Saigon Saigon Rooftop Bar sits on the top floor of Hotel Caravelle, which is located opposite opera House and overlooks Notre Dame Cathedral. This building is a time-value relict itself as Hotel Caravelle was the accommodation for American reporters to overlook the city during the Vietnam War. Being furnished with simple classic wood-wares, the space gives you a rustic feel, completed by the scene of the sun disappearing behind the old building of the city.
Inhouse space in Saigon Saigon rooftop bar. Photo by Saigon Saigon rooftop bar
The unique drink menu offers their special brewed beer named Caravelle Terrace Draft and the creative cocktails to represent the history of the Indochine land. The food menu contains light dishes such as sliders, platters with Western signature plates such as Wagyu Beef Burger, or Vietnamese signatures such as Spring Rolls.
Live music is performed every night with a relaxed, elegant atmosphere that will bring you a calm and joyful experience within the rushing lifestyle of the city.
---
Above Sky Bar
Early evening in Above Sky Bar. Photo by Above Sky Bar
Listed as the top modern and stylist rooftop bars, Above Sky offers a vibrant nightlife and well-rounded food and drink menu that sparkles up your night.
Besides the panorama view of the city horizon, the spacious terrace proudly shows its lavish cool bar, fancy and comfortable lounge sofas. But most impressive of all is its infinity rooftop pool, which is available for chilling out during the daytime with a nice cup of cocktail high above the sky and under the tropical sun.
---
Z Lounge
Classic space of Z Lounge. Photo by Z Lounge
A vast venue with the maximum number of guests (at a time) can be up to 1000, Z Lounge (also known as SKYXX) offers a spacious, vibrant and party-feel space to spend your night above the city.
With a glowing bar in the middle, it is the heart of this large space. You can freely choose the drink among the diverse menu of well-made mixology cocktails, wines, and spirits.
Tip: For a relaxed and more quiet chillout place, arrive early in the afternoon during the happy hour time frame (every day from 5:30 p.m to 8 p.m) while watching the sunset. At night, this place turns into a giant party crowd with electronic music by trendy DJs.
---
M Bar
Saigon river view from M Bar. Photo by M Bar
Situated on top of a classic colonial-style building, Hotel Majestic Saigon, classic and luxurious M Bar overlooks Bach Dang Habor and Saigon River. It's a perfect location for a cozy gathering of friends and family while having a panoramic view of the city, great food, drinks, and good table services.
Coming early in the afternoon for enjoying the sunset or treating yourself to live music by Philippinos and Flamenco bands in the evening are both lovely ideas. They also offer indoor lounge space for a cozier setting.
Close your eyes and imagine your night in Saigon. Have you made up your mind yet?
Let's choose your perfect rooftop bar in Ho Chi Minh City and have lots of fun asap!!
An article for the http://www.Local-Insider.com by Nhu Quynh Tran

Are you planning a trip to Vietnam ? We invite you to contact us at MustSeeInVietnam@Gmail.com and to visit the No 1 Vietnam Travellers Podcast website https://www.whataboutvietnam.com. https://www.Local-Insider.com and https://www.VietnamTravel.com
Thank you for following us, for your Likes, your comments and for sharing with your friends. Visit us on Facebook https://www.facebook.com/mustseeinvietnam/