If you first come to Vietnam or are in a lazy mood and don't want to eat out, this article is for you. This is because we will list the best food delivery applications in Vietnam that you can easily use to enjoy delicious Vietnamese cuisine without actually getting out of your place.
GrabFood – the most used food delivery service in Vietnam
When it comes to ordering food, GrabFood is always among the top-of-mind choice for Vietnamese. The application covers a wide range of restaurants and a huge number of shippers in the big cities, which guarantees your orders to be received in under 2 minutes. There's a joke that "You can find a Grab shipper every 3 meters square in Saigon".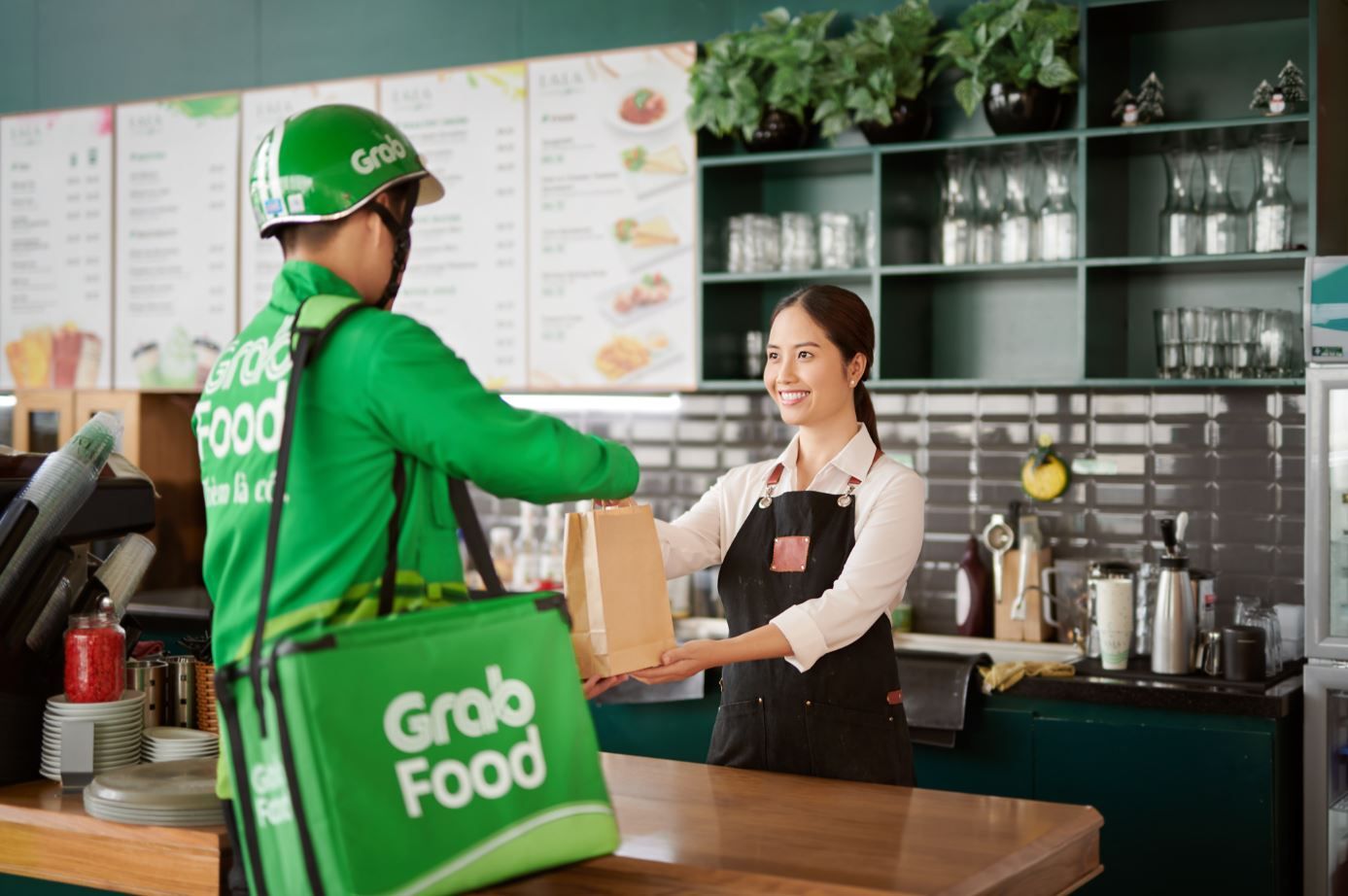 Available locations:
TP. Hồ Chí Minh, Hà Nội, Đà Nẵng, Huế, Hội An, Đồng Nai, Bình Dương, Cần Thơ, Vũng Tàu, Hải Phòng, Quảng Ninh, Nha Trang, Đà Lạt, Buôn Ma Thuột, Phan Thiết , Vinh – Nghệ An, Thanh Hóa, Pleiku, Tiền Giang
Special characteristics:
Quick delivery
A variety of food
Many good deals and discount code
Grab food Top-stars – popular restaurants
There is a wide range of restaurants and cuisines available on GrabFood. Thus, the application's interface is search-friendly. Make sure you know some popular Vietnamese food in your mind.
A lot of app users are interested in promotion codes and free ship programs. Grab food will please you if you are one of them because there are so many discounts, so you can reduce the total price quite a lot. Grab food has the most promotional codes compared to the other apps. Plus, when you turn on the app, you will see many good deals first. And you can get a free ship code if you pay a certain amount of money.
Another feature that I am impressed with Grab food is Grab food Top-stars, where you can see a lot of popular restaurants with good feedback from app users. This helps you to choose good food even when you do not have any ideas about what to eat.
Get the App on Appstore,
2. Shopee Food (previously known as Now)
Areas when you can use NOW:
Hà Nội, TP. HCM, Đà Nẵng, Hải Phòng, Cần Thơ, Đồng Nai, Nghệ An, Huế,Bắc Ninh, Lâm Đồng, Vũng Tàu, Bình Dương, Thái Nguyên, Quảng Ninh, Khánh Hòa, Quảng Nam.
The time that you can order food: 24/7
Special characteristics
– An intuitive interface
– Many freeship promotions, discounts
– Promotion freeship within 5 km
– Public and transparent prices
– Customers can refer to comments, reviews, and photos before ordering.
– Book a table, buy medicine, fresh food, cosmetics,…
The first thing I like about this Shopee Food application is that it has an intuitive interface, making it easy to find dishes, view food reviews and view order delivery routes. Moreover, Shopee Food (Now) also launched many Freeship promotions, discounts during holidays, buy 1 get 1 free, so it is highly sought after by customers.
The second beneficial thing is that there is the promotion freeship within 5 km or promotion by time frame. As a result, you can save some money from the delivery fee if you know some great restaurant within 5 km from your place. It is something very different from other food delivery applications. In comparison with Grab, Now has fewer promotional codes for customers, but it directly reduces the price of food.
Furthermore, the prices of each store are public and transparent.
Additionally, customers can refer to comments, reviews, photos before ordering. The store data is abundant, it is believed that it has the most stored compared to other apps (more than 37,000 shops in Ho Chi Minh City), and many other provinces.
In addition to buying food and drinks, you can also book a table in a restaurant, buy medicine, buy fresh food, cosmetics, … It is convenient, especially when you are alone and don't feel very well. Shippers can bring you the medicine you need.
For more information: https://www.facebook.com/shopeefoodvn
3. Baemin – A Korean food delivery applications
Area where you can use Baemin:
Hồ Chí Minh, Hà Nội, Hải Phòng, Cần Thơ, Đà Nẵng, Biên Hoà, Vũng Tàu
The time that you can order food: 7:30 AM – 10:00 PM
Special characteristics:
Summary:
– Friendly and cute interface
– You can pay by bank cards or Mono e-wallet.
– High discounts
– You can buy fresh food from supermarkets
– Various dishes from big brands to street vendors
– You can save addresses and make notes of dishes you bought for the next time
When you first experience the Baemin application, you can easily get used to its interface because of its friendliness, clearness, and logical layout. Baemin's iconic image is a chubby cat riding a motorbike, wearing a helmet, looking quite cute and close. This is commendable for Baemin so that users can access the application quickly.
In addition to paying through cash, you can also use bank cards or the integrated Momo e-wallet and the payment is secure.
Plus, there are many promotions and quite high discounts, at 50 – 60% and a maximum of 50-80 thousand Vietnam Dong. This is the best feature of Baemin compared to other apps. If you want to save money, this app should be the first choice.
Besides ordering and delivering food, the Beamin application can help you "go to the market" at Lotte Mart stores and supermarkets. This is for people who don't want to wait in line in the cashier stall for a long time.
Importantly, you can choose from diverse dishes, which are regularly updated, from big brands to popular, food for many ages
Finally, you can save the address for the next time you order. This means that you don't have to type the address, you can make a note of the address more specifically for the shipper to deliver more easily, and reduce the seasoning like no chilies.
For more information: https://www.facebook.com/baeminvina
4. Gofood
The area where you can use this app: Hồ Chí Minh, Hà Nội
The time that you can order food: 24/7
Special characteristics:
Summary:
– You can place many orders at the same time
– Food delivery fee is the cheapest in the top 5
– Fast delivery speed
– Many free promotions
GO-Food is similar to Grab Food because this company also takes advantage of the available advantages of GO-Bike drivers to provide a variety of services to customers.
One of GO-Food's strengths is that it enables you to place multiple orders at the same time, so it is possible to order both moving vehicles and GO-Food.
GO-Food's food delivery fee is the cheapest in the top 5. This app usually charges no fee for shipping if you order within 2 km. It is the biggest strength of this food delivery app.
GO-food application has fast delivery speed, many ordering locations, and many free promotions for customers. In addition to ordering – food delivery, GO-food is also fast delivery and delivery ordering application.
Besides cooked food, you can also order fresh food. With a wide range of meat and seafood, you can find the best ingredients for your dishes with high quality here. This is because you can also find some imported products like American beef or Norwegian salmon. This may sound great for fantastic cooks.
For more information: https://www.facebook.com/gofood.HCMC orhttps://gofood.vn/ve-chung-toi/gioi-thieu-4.html
5. Loship
Area where you can use this app:
Hà Nội, Hồ Chí Minh, Đà Nẵng
The time that you can order food: 8:00 AM – 10:00 PM
Special Characteristics:
Summary:
– Fast delivery time
– Free shipping
– Regular discount for dinner
– Diverse food
The strength of Loship today is the fast delivery time (committed in 1 hour), free shipping, and regular discounts for dinners. In particular, perhaps Loship's priority target group is young people and office workers, so snacks such as milk tea, tea, rice paper, fruit… are very various. Besides, lunch dishes, broken rice, pho… are also quite diverse.
For more information: https://www.facebook.com/LoshipVN
From my perspective, it depends on certain needs, I will choose the most suitable app. For example, if I have to order food for a group of friends or my whole family, I will prefer Now, because there is a group booking section, and it is easier for me to split the fee for each member, or when I want to try a new restaurant, I will use Now because there are many restaurants. When I eat personally, GrabFood would be the best choice because of the reasonable fee and you can also earn membership points. I will often wander between the first 3 apps and choose when the app offers the best price.
Are you planning a trip to Vietnam ? We invite you to contact us at MustSeeInVietnam@Gmail.com and to visit the No 1 Vietnam Travellers Podcast website https://www.whataboutvietnam.com. https://www.Local-Insider.com, https://www.VietnamTravel.com and https://wwwvietnaminsider.vn
Thank you for following us, for your Likes, your comments and for sharing with your friends. Visit us on Facebook https://www.facebook.com/mustseeinvietnam/