Our Editor swears by street restaurants, for the reasons you will read in this superb article published by Vietnamdiscovery.com. I agree with her, when you know what and where to eat don't hesitate, relax, taste, drink local beers, spy around you and enjoy!
When referring to Vietnam, international friends will not only think about an S-shaped seaside nation with a lot of very-beautiful natural scenery and other natural resources luckily offered by nature but also imagine Vietnamese cuisine, especially Vietnam's street food cuisine. Vietnamese street food cuisine was complimented by tourists and mentioned as one of the worldwide most-delicious street food cuisines by serious newspapers in the world.
So why did it get so famous that it has been regarded as a typical symbol of Vietnam by tourists? We will find out together now the reason why Vietnamese street food turned so popular with international friends. Here are some best Vietnamese street food if you have the intention of trying Vietnam's street food on the next trip to Vietnam in the near future.
I. Vietnamese Street Food Culture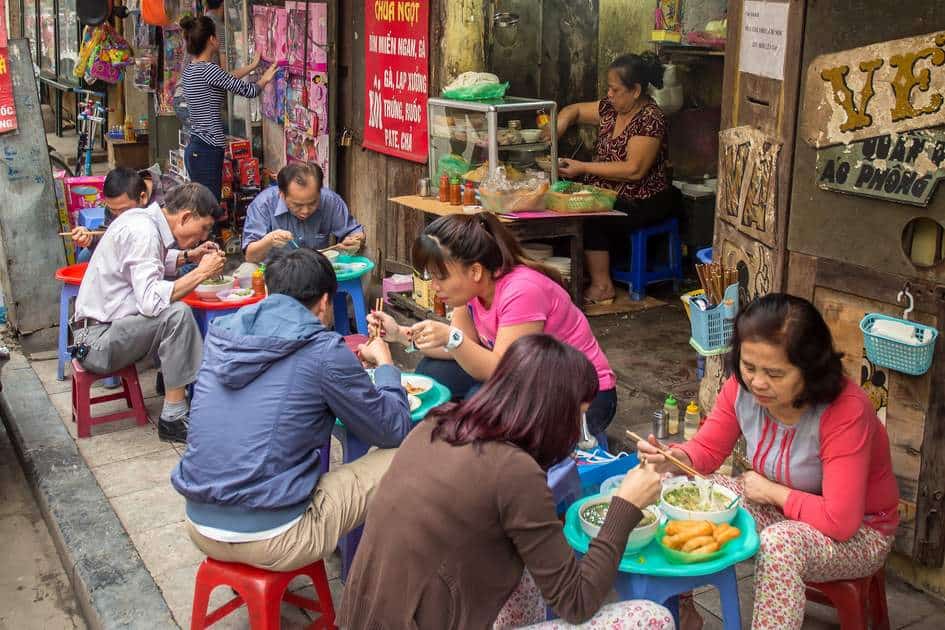 Street food in Vietnam is not simply a list of Vietnamese traditional dishes sold on streets, it also expresses a part of the beauty of Vietnamese people's culture, lifestyle, feelings, thought. Moreover, it is a combination of Vietnamese traditional culture and other nations' cultures which dominated Vietnam in history especially China.
Throughout more than 4000-year history with many ups and downs, Vietnamese culture, in general, and cuisine, in particular, were affected so strongly by Chinese culture that people have no difficulty in finding some Vietnamese street food quite similar to Chinese food such as baozi, noodles, and so on. However, for anyone who tried Vietnamese street foods will all realize the difference as the Vietnamese changed and created to make our own dishes with unique tastes.
Vietnamese cuisine focuses on the harmony of ingredients to bring refreshing flavors, keep natural tastes, and be good for our health. In each dish, tourists will find adequate taste including sour, spicy, salty, and sweet, which is very attractive. This is the reason that Vietnamese street food makes a great impression on many tourists.
In addition, there will not be any country that you can find that in any origin all have their own specialty like Vietnam. From the south to the north, each province all has specialties for tourists to enjoy as Banh Da Cua in Haiphong; Com, Cha Ca La Vong, Bun Thang, etc. in Hanoi; Beef noodles in Hue; Coconut candies (Keo Dua) in Soc Trang, and so on.
II. 5 Reasons to Eat Street Food in Vietnam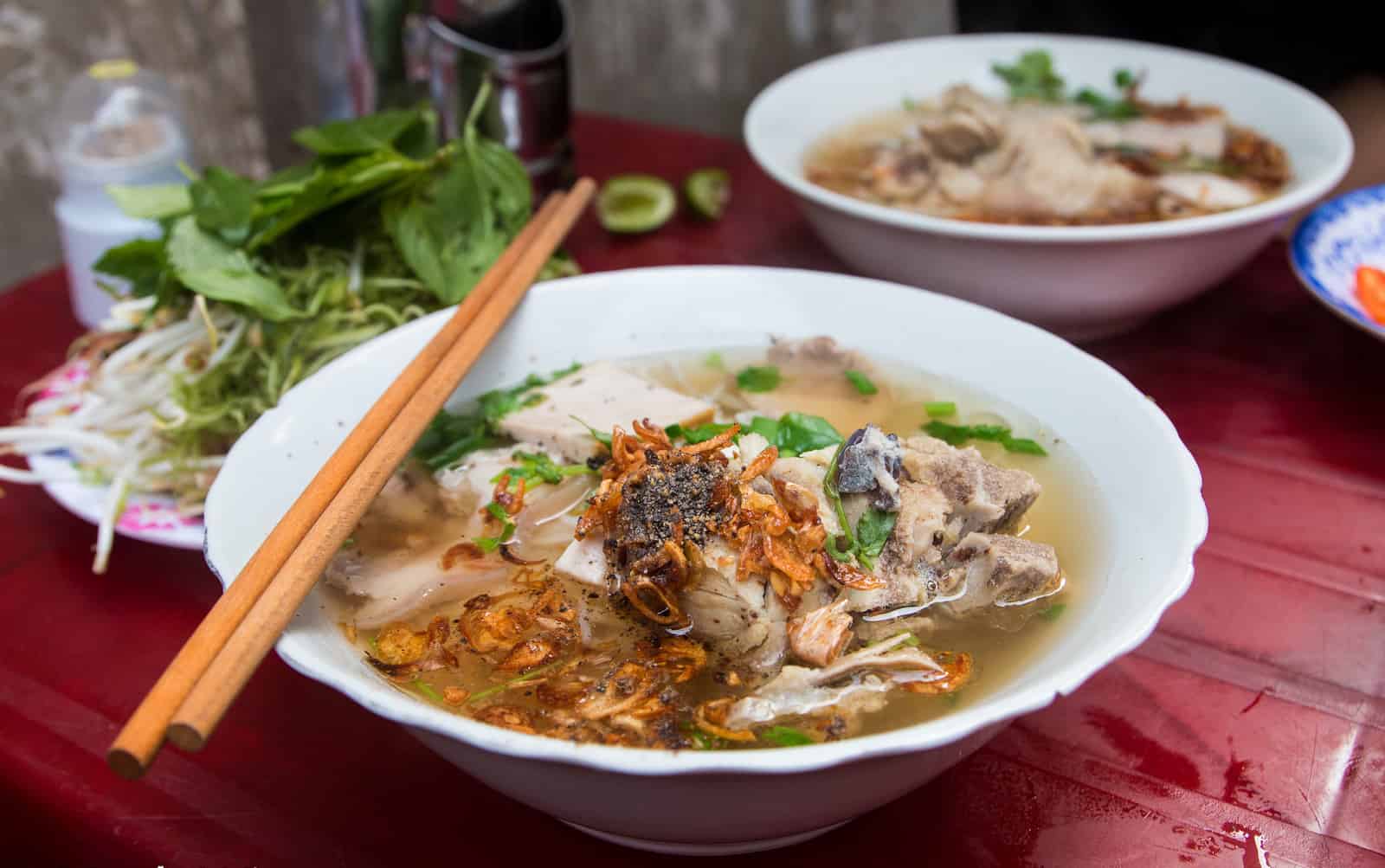 There are many reasons for tourists to discover and get addicted to street food in Vietnam. However, the mass agree that there are four main reasons to keep their feet, including the taste of street food, the cheap price, the authenticity and freshness of ingredients, and the local way to enjoy street food.
1. The taste of street food: It is completely delicious
Most street food in Vietnam is said to have an unforgettable delicious taste by tourists. Each dish all has its perfect recipe that has been tweaked for many generations before reaching perfection. Besides, there may be some differences in the taste of the same dish between regions in Vietnam such as street food dishes in the south and south-central are sweeter than other regions while in the north and north-central they are saltier and spicier. However, all of them will make a great impression on visitors right from the first time.
2. Cheap price
It is considerably cheap. Normally, it takes you only about 1 – 2 dollars to enjoy a street food dish and no more than 25 dollars to get full. And, you will be surprised when you see a decent portion of street food such as Bun Bo Hue (Hue beef noodle), Bun Cha, Banh Cuon (rolled rice pancake) and so on. It is full of noodles, meat, herb, and tasty soup that are believed to have higher prices at only 1 – 3 dollars depending on stalls.
3. The authenticity and freshness of ingredients
Street food in Vietnam is similar to fast food in western countries; however, it is fresher and more authentic. Most street food dishes will not be processed in advance, they only processed right after guests order, so the flavor is still authentic. Tourists had better eat them right when they are still hot to feel the most perfect flavor. Moreover, Vietnamese people are accustomed to enjoying almost dishes with herbs to get a fresh flavor. There is no lack of herbs and authentic ingredients you can see at any street food stall to bring the authentic and fresh flavor to guests.
4. How to enjoy street food in Vietnam
When in Rome, do as the Romans do. Street food in Vietnam seems to be not as delicious as it is if you don't enjoy it in a Vietnamese way. For travel-lovers, when coming to any country, you should do the same way as the locals to understand more about the country you are visiting. Most tourists agree that when exploring Vietnam's street food, you should enjoy it in a local way! People here are friendly, hospitable and willing to share their culture, customs, life and street food is a wonderful place to experience it.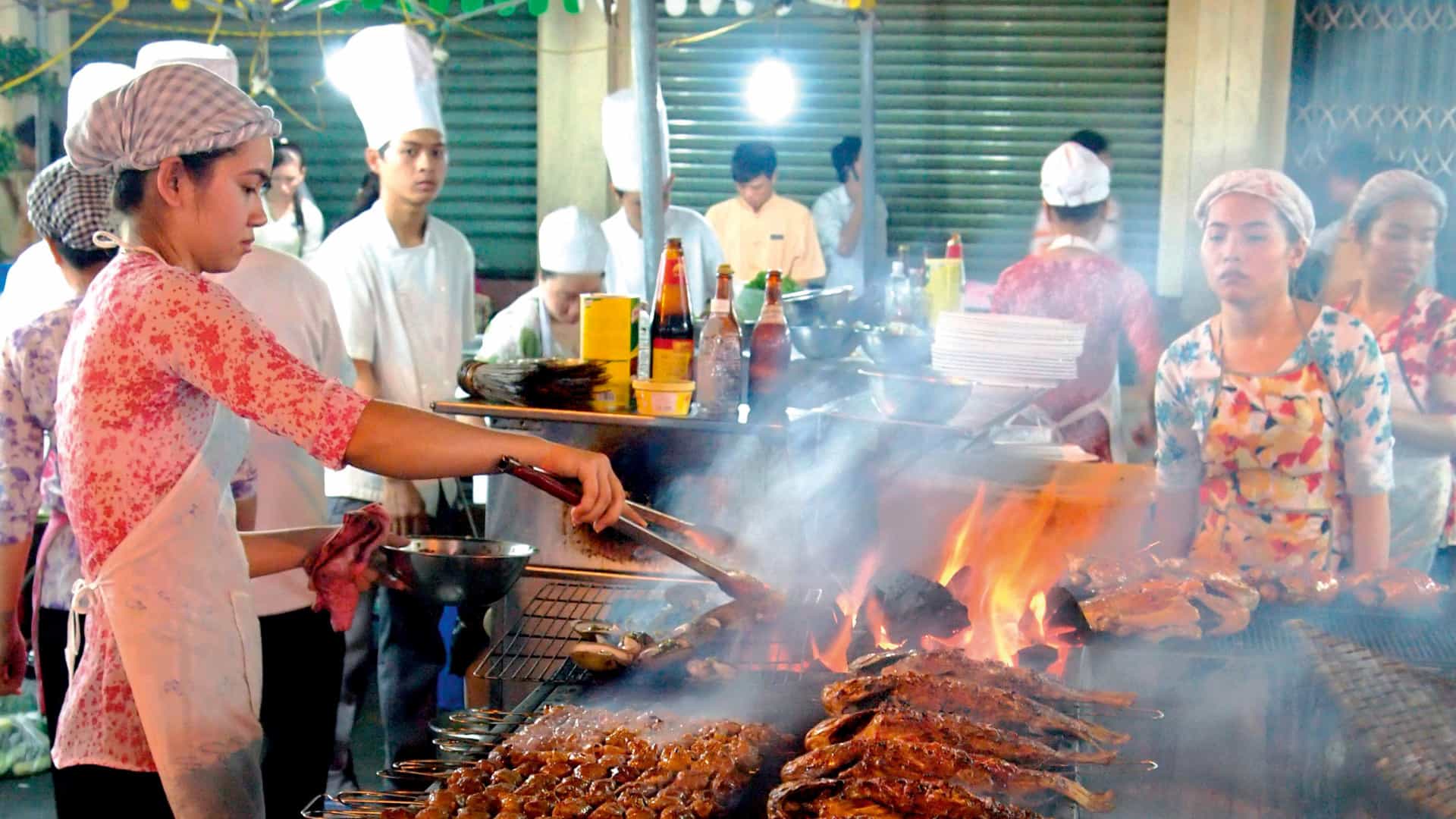 5. Overcoming the fear of street food
The fear of unfamiliar food or street food seems still popular main anxiety even for the most experienced tourists. Therefore, how to overcome the fear of street food is an important problem for any tourist having the intention of experiencing Vietnamese street food cuisine.
Firstly, most of the anxiety comes from the fact that we don't know exactly what it is and similarly, a large part of the fear of street food when traveling is simply a fear of the unknown. Therefore, you ought to research street foods you are likely to experience on the trip as much as possible. You can search in reliable sources on the Internet such as professional travel bloggers' youtube because they usually review the experience such as where to go, what to eat and some notes when they visit countries, Lonely Planet, TripAdvisor, BBC New, and so on.
Secondly, try something similar before coming to Vietnam if there are any Vietnamese food stores or restaurants in your city; however, this way is not truly effective because the chiefs tweaked all recipes of almost dishes a little bit to fit with the taste of the locals.
Thirdly, ask as many of your friends who have visited Vietnam before as possible to get an objective look at Vietnam's street food and which favorite dishes you had better try or avoid on the trip.
This article was published by Vietnamdiscovery.com/
Our sources for our articles are from Must See in Vietnam Reporters, Local-Insider www.Local-Insider.com, Vietnam Expresshttps://www.E.VNExpress.net, https://www.the crazy tourist.com, https://www.roadaffair.com/ and the No 1 Vietnam Travellers Podcast website https://www.whataboutvietnam.com and https://www.VietnamDiscovery.com
If you are planning a trip in Da Nang, Hoi An & Hue, we warmly suggest you to contact Uncle 'Hello' for an unforgettable Experience > UncleHelloVietnam@Gmail.com
👀 We are looking for stories to tell for our readers. Whether it's a start-up or an existing, innovative company in. The F&B Industry in Vietnam that needs to be known… write to us at MustSeeInVietnam@Gmail.com
… and million of Thanks 🙏 for following us, for your Likes 👍, Loves ❤️ for your comments ✍️ and for sharing ⭐️ with your friends. Visit us on Facebook https://www.facebook.com/mustseeinvietnam/