This morning I simply invite you to read this very nice article written by a very talented young journalist to propose one of the festivals which is not to be missed during your visit to Vietnam in early fall. Please Like and share this article, you are helping to give visibility to young journalists and to our blog, which is a non-profit one. Oh I forgot, join our community Facebook ! #MustSeeInietnam Editor
The buckwheat flower festival in Vietnam happens from September to early December every year. If you want to embrace the unique beauty of Ha Giang on this special occasion, check out some tips below.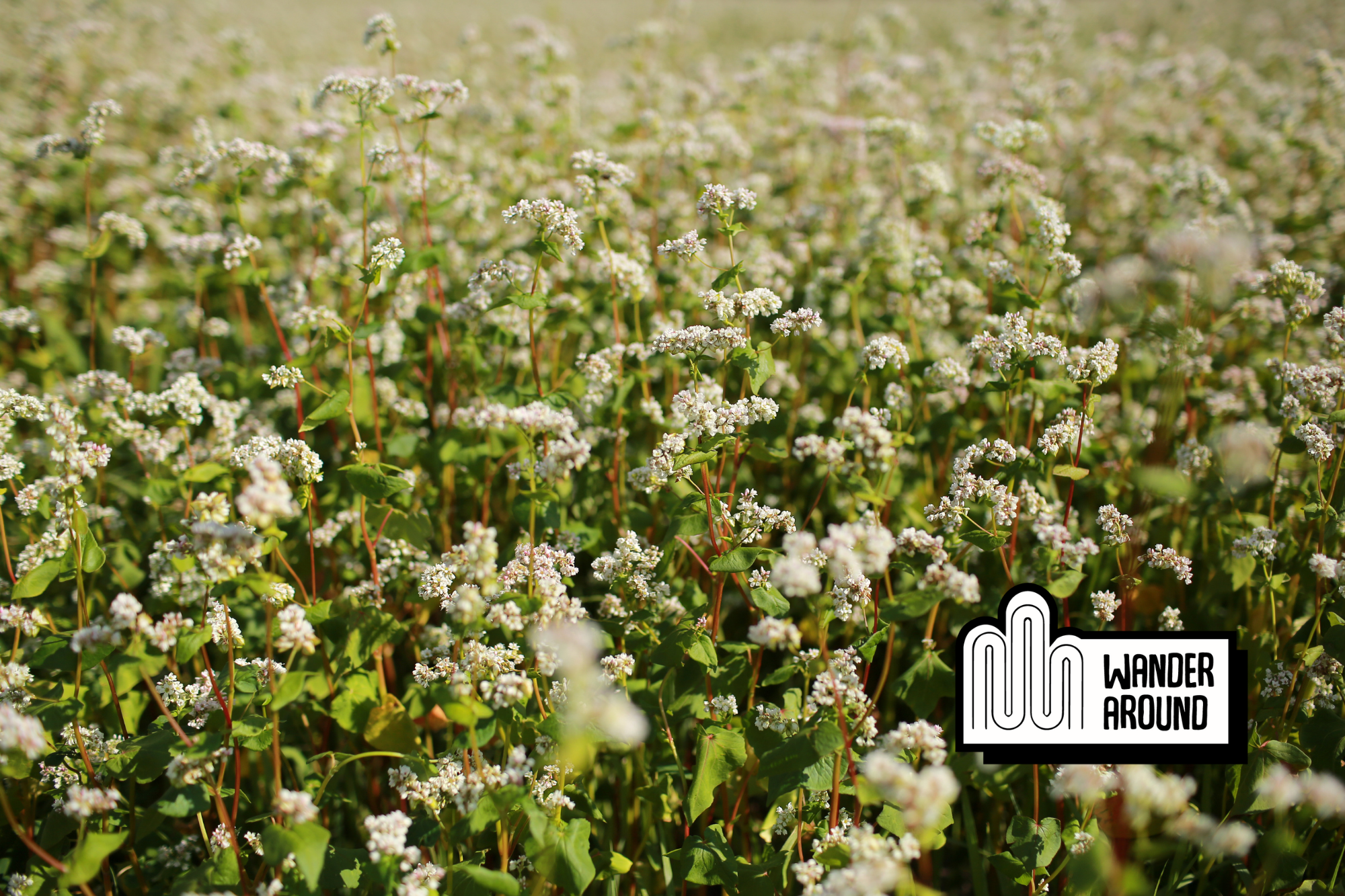 Ha Giang Vietnam is widely famous for Ma Pi Leng Pass, Dong Van karst plateau geopark, and Lung Cu flag tower. But many come to enjoy the buckwheat flower festival in Vietnam from September to early December every year. If you want to see the beauty of Ha Giang in this period, let's check some tips below.
In a nutshell:
Time to visit: October – November (held in the middle of November)
Places: Quan Ba, Dong Van, Meo Vac
Suitable for: adventurous tours, motorbike tours
Activities: displaying art objects, singing, making cakes, folk games.
What is buckwheat?
Buckwheat is an important food for inhabitants in Ha Giang. Source from The Spruce Eats.
Many may come across the question "What is buckwheat?" when someone asks them to join a buckwheat flowers tour in Ha Giang. Buckwheat is a plant with three-sided grain seeds. Southeast Asia has used it for more than 5 thousand years.
The plant can be between 2 to 4 feet tall at maturity, and you can see the buckwheat flowers after about three weeks. The beauty of these flowers is so charming that many come only to take pictures of them.
The history of buckwheat
Buckwheat tastes like rice and corn. Source from The Healthy.
People say that buckwheat has saved a lot of inhabitants from famine. In the past, the harvest season was not good enough that many were hungry all day long. At that time, the Northern people lived on corn and rice.
But there came one year when the land was barren, it was very difficult for them to find food. Among high rock mountains, the region found buckwheat flowers and nuts to live their life. The new and strange food tasted like rice and soon later became popular in Southeast Asia.
Uses of buckwheat flowers and buckwheat flour
Buckwheat are useful for making different food. Source from VnExpress International.
Both flowers and the flour of buckwheat are very useful. They are important parts of the daily life of people in Ha Giang. Not only in Vietnam, but some other countries including India, Korea, and Japan also live on it.
Buckwheat flour can be used for making rice, pancakes, noodles, porridge, slices of bread, and many kinds of cakes. People use flowers for making special wine and sometimes they use buckwheat to raise cattle.
The beauty of buckwheat flowers in Ha Giang, Vietnam
Buckwheat flowers are pink. Source from People's Army Newspaper Online.
There is an exact reason for anyone to take his package and move to a new place. People who come and visit Ha Giang love the beauty of buckwheat flowers, which can change from white to pink and dark red when it is mature.
The beauty of buckwheat flowers is both wild and splendid. Its bunched petals are like cone shapes, and you can see a particle among the three triangles surrounding it.
A scene of a buckwheat flower field in Ha Giang. Source from Pinterest
This kind of flower is full of energy and attractive. It can also change colors during its maternity. How amazing to see the fields of such flowers stretching the hills during your Ha Giang tours.
Best time to visit Ha Giang to see buckwheat flowers
October and November are two months for visiting Ha Giang. Source from VietReader Viet Nam.
Buckwheat flowers can be seen from 2 to 3 weeks after people plant them. The buckwheat flower season lasts from September to December. But when is the best time to visit Ha Giang? It is from October to November.
These two months are the peak time for tourism in Dong Van, Meo Vac, and Quan Ba. During the tours to Ha Giang Vietnam, tourists can see the magic beauty of buckwheat fields stretching across the villages, the passes, and the mountainside.
A beautiful photo of buckwheat flower fields. Source from VietReader Viet Nam.
November is the best month for travelers to visit the province because there is a buckwheat flower festival. From October to November, it is cold and dry, but it is worth it for an adventurous tour, and visitors can enjoy yummy food in these destinations, including Thang Co, Au Tau porridge, Thang Den, etc.
Best places to see buckwheat flowers
Lung Cam village is a good location for an eye-catching buckwheat flower field. Source from VnExpress International.
Although there are many places to see and take pictures of buckwheat flowers, we highly suggest these best 4 destinations for you to choose from.
Thach Son Than in Quan Ba: From Bac Sum hill, you can ride the motorbike along the road and enjoy the wild and splendid flowers for about 3 kilometers. This is one of the most famous locations for seeing buckwheat flowers in Ha Giang Vietnam.
Lung Cam Cultural Village: Lung Cam in Dong Van valley is not only known for its beauty with many buckwheat flowers but also its majestic landscapes. When traveling to Ha Giang, do not miss the destination because it can be attractive.
Buckwheat flowers in Dong Van, Ha Giang. Source from VnExpress International.
Ma Pi Leng Pass: Driving along the curving Ma Pi Leng pass, you can see buckwheat flowers lying in two mountain ranges. It is so amazing and stunning for any traveler! In October, the flower fields are in pink color and it is very splendid.
The field under the Lung Cu Flag Tower: On the way to the place, you should stop at the field under the flagpole. It is a good location for taking the best picture of eye-catching buckwheat flower fields. It can be an unforgettable scene for your best Ha Giang tour ever.
Buckwheat flowers festival in Ha Giang and activities
Buckwheat flower festival is held in Dong Van. Source from vov.vn.
The buckwheat flower festival is held annually in Ha Giang Vietnam. It takes place in the middle of November, and people choose the Dong Van district to hold the program. The reason why the festival is held in November is that this month is the time buckwheat flowers bloom.
Many locations such as Pho Bang, Pho Cao, Lung To, Lung Cu, Sa Phin in Dong Van and Sung Tra, and Pa Vi in Meo Vac are in the pink color of these beautiful flowers.
The opening ceremony with beautiful songs. Source from Vietnam Plus.
At the festival, tourists can join the opening ceremony, listening to songs of ethnic minorities. Besides that, There is an exhibition of art objects for tourists to come and visit. People even join a competition to show their talents in cooking, singing, etc.
There are folk games for inhabitants, and you can take unique photos during the tours. One more thing you should never miss is to try traditional dishes such as Thang Co, Thang Den, cakes from buckwheat flour, and buckwheat flowers' cakes.
Tips to travel for the buckwheat flowers festival in Ha Giang
Driving your motorbike to Ha Giang is great to see buckwheat flowers. Source from Freepik.
If you want to join the Ha Giang tour and see the beautiful flowers, please read carefully to prepare for the trip:
Joining a motorbike tour is the best way to immerse yourself in nature and take pictures.
Remember to change the money to buy food
Bring warm clothes because Ha Giang is colder than big cities such as Ha Noi.
Remember to charge the camera and smartphones to take a lot of photos.
Find a local to discover the best places to visit, with a good view.
Remember to try buckwheat flowers' cakes.
Do not wear high heels!
Raincoats are necessary.
If you need any information, please leave a comment. Wish you an amazing tour to Ha Giang Vietnam to join the festival.
Must See In Vietnam is looking for stories from the Vietnam Expat Community. We would be delighted to publish your Experiences . Write to us at MustSeeInVietnam@Gmail.com
Million of Thanks for following us, for your Likes , Loves, for your comments and for sharing with your friends. Visit us on Facebook https://www.facebook.com/mustseeinvietnam/
We Welcome advertisers as Must See In Vietnam is a non-profit blogger and your support will will allow us to pursue our mission and even to hire young journalists to allow SME Vietnamese Businesses to have visibility all over the world!