This morning we are going off the beaten track and presenting you a blog on the exotic species of our marine flora. You will be amazed #MustseeInVietnam Editor
Vietnam is a region of rich biodiversity, ranking as the world's 16th most biologically diverse country. It has over 50,000 species, many of them aquatic. A significant number of these aquatic species inhabit the incredibly diverse Mekong River. Read on to discover 7 spectacular fish found in Vietnam!
1. Siamese Fighting Fish
One of the most amazing fish found in Vietnam is the Siamese fighting fish or the betta fish (Betta splendens). Although pet owners around the world keep this species in aquariums, it is native to the Mekong Basin, part of which lies in Vietnam. Unfortunately, in 2011, the IUCN listed it as Vulnerable.
The Siamese fighting fish is equal parts aggressive and beautiful. Its billowing tail and wide range of colors and patterns have endeared it to fish enthusiasts. However, in an aquarium environment, it is wise to keep males and females separate except during mating. This fish grows to a maximum length of 2.56 inches, which is an ideal size for a pet fish.
2. Giant Freshwater Stingray
The giant freshwater stingray (Urogymnus polylepis), an inhabitant of Vietnam in the Mekong Basin, is famous for being the largest freshwater fish in the world. According to Guinness World Records, the biggest individual on record was a female from Cambodia. She weighed 661 pounds and measured 13 feet in length, including her tail. She also stretched seven feet two inches from wingtip to wingtip. As of June 13, 2022, this is the largest freshwater fish ever officially recorded.
The giant freshwater stingray or whipray is grey or brown in color and blends in well on the sandy bottoms of rivers and estuaries. It can survive in both fresh and brackish water.
3. Siamese Tiger Perch
The Siamese tiger perch (Datnioides pulcher) is a freshwater fish with tigerlike stripes along its body. Among other places, it makes its home in the Mekong Basin in Vietnam. Observers may easily confuse the species with others from the Datnioides genus due to their similar striping. This carnivorous fish feeds on other fishes and shrimps.
The Siamese tiger perch grows to a maximum length of 1.3 feet. Four to five vertical black bars alternate with yellow bars along its body to give it its signature appearance. Its dorsal fin appears spiny.
4. Great Hammerhead Shark
One of the most incredible fish found in Vietnam is the great hammerhead shark (Sphyrna mokarran). As its name suggests, this shark is the largest of the hammerhead species. The biggest individual on record was 20 feet in length and weighed 990 pounds. An aggressive shark, this species may be responsible for a number of attacks on humans.
The great hammerhead shark is most famous for its flat, hammer-shaped head. Though its diet varies widely, this predatory fish is large enough to eat squids, rays, and even other sharks. A highly migratory species, it occurs in tropical and temperate waters both in the open ocean and near coasts.
5. Mekong Giant Catfish
The Mekong giant catfish (Pangasianodon gigas) is a massive freshwater fish found in Vietnam in the Mekong Basin. This impressive species is the second-largest freshwater fish in the world. Its biggest member weighed 646 pounds and measured eight feet eleven inches in length. Strangely, adults of this enormous species have no teeth.
The Mekong giant catfish is whitish or greyish in color without stripes or other marks. Unlike most other catfish species, it has few to no barbels.
6. Banded Eagle Ray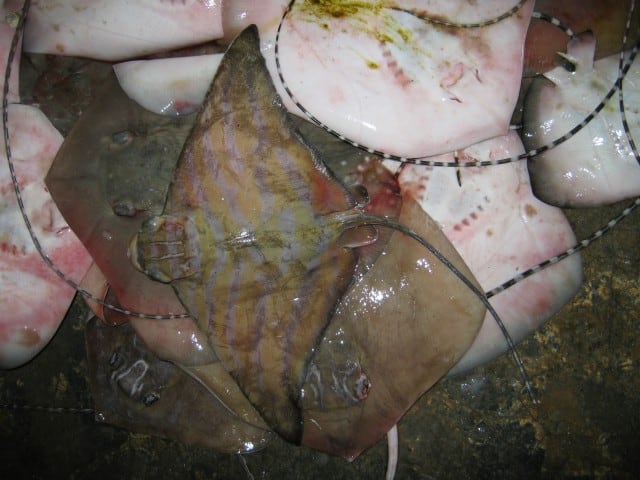 The banded eagle ray (Aetomylaeus nichofii) is an endangered fish of the Indo-West Pacific region, including the area off Vietnam's coasts. Part of its name derives from the faint bluish bands across its back while the other part comes from its pointed "wings." Despite the length of its whiplike tail, it lacks a stinger and is not dangerous.
The banded eagle ray is much smaller than its cousin, the giant freshwater stingray. The largest specimen on record was only 2.13 feet in length.
7. Iridescent Shark
The last fish on our list, the iridescent shark (Pangasianodon hypophthalmus), is actually not a shark but rather a shark catfish. Scientists also know it as the striped catfish. The species gets its name from the shimmery, iridescent scales on its juvenile members as well as its sharklike appearance. It lurks in the Mekong Basin in Vietnam, feeding on other fish, crustaceans, and vegetation.
The iridescent shark grows to a maximum length of 4.26 feet and a maximum weight of 97 pounds. Adults are uniformly grey, though juveniles sport two black stripes along their bodies.
Conclusion
Vietnam is home to many species beyond those included in this list. Check out this article to read more about Vietnam's wildlife.
Written by Kathryn Dueck for https://a-z-animals.com/
We Welcome advertisers as Must See In Vietnam is a non-profit blogger and your support will will allow us to pursue our mission and even to hire young journalists to allow SME Vietnamese Businesses to have visibility all over the world!
Million of Thanks for following us, for your Likes , Loves, for your comments and for sharing with your friends. Visit us on Facebook https://www.facebook.com/mustseeinvietnam/